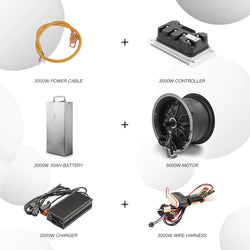 Mangosteen 3000W Upgrade Kit For M1P/M1 2-seat (custom)
Dear loyal customers of Eahora, does the sudden launch of the 4000W custom scooter make your heart flutter?
Are you distressed that you already own a scooter?
3000W Upgrade kits are launched heavily, in order to give our loyal customers an upgrade choice!
Production time: 5 days
Shipping time: 30-40 days
Package includes:
3000W Motor *1
3000W 30AH Battery *1
3000W Controller *1
3000W Power cable *1
3000W Harness * 1
3000W Charger *1